Unser Engagement für die MIR-Forschung
Wir sind auf einer Mission...
die Welt der Musik durch bahnbrechende Forschung im Bereich Music Information Retrieval (MIR) zu revolutionieren, wobei der Schwerpunkt auf der automatischen Musiktranskription liegt. Unser Engagement treibt uns dazu an, Grenzen zu überschreiten und unerforschte Gebiete zu erkunden, um außergewöhnliche Produkte zu entwickeln. Durch den Einsatz von Spitzentechnologien, Datenanalyse und künstlicher Intelligenz wollen wir die komplizierten Geheimnisse der Musik entschlüsseln, Grenzen überschreiten und Tools entwickeln, die Musiker inspirieren, Branchen verändern und das Leben bereichern. Unser Engagement für Innovation ermöglicht es uns, die Zukunft der Musik zu gestalten und sie für alle zugänglicher, ausdrucksstärker und unterhaltsamer zu machen.
Unser Hauptziel ist die Förderung von Innovationen, die das Potenzial haben
nicht nur einzelne Musiker, sondern die gesamte Musikindustrie als Ganzes.
Bachelor- und Masterarbeiten
Unsere neuesten studentischen Forschungsprojekte: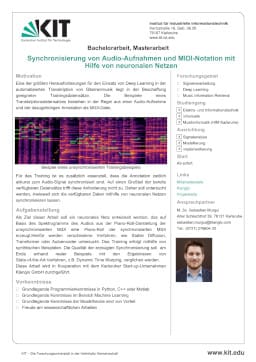 Alignment of audio signals and midi scores using neural networks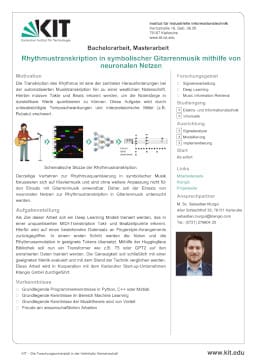 Rhythm transcription in symbolic music using transformers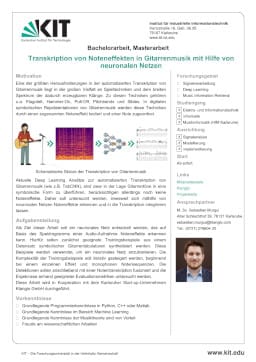 Transcription of guitar playing techniques using neural networks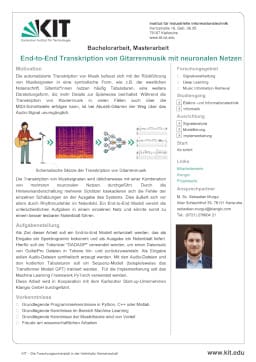 Using transformer models for End-To-End transcription of acoustic guitar music
Wir bieten Bachelor- und Masterarbeiten in Zusammenarbeit mit dem Karlsruher Institut für Technologie (KIT) und der Hochschule für Musik Karlsruhe an. Sie sind auf der Suche nach einem spannenden Thema für Ihre Abschlussarbeit, dann schauen Sie doch mal auf der Homepage des IIIIT nach Möglichkeiten.
Neueste Veröffentlichungen
Aktuelle Nachrichten und Veröffentlichungen aus unserem Forschungsteam.
Sind Sie daran interessiert, Ihre Kräfte zu bündeln?
Haben Sie Fragen, Ideen oder eine Zusammenarbeit im Sinn? Wir haben ein offenes Ohr für Sie. Wenden Sie sich an unser Forschungsteam für Anfragen, Partnerschaften und mehr. Ihr Input treibt unsere Innovation voran.
Lassen Sie uns gemeinsam die Zukunft der Musik gestalten!