Go to klang.io/piano2notes
Create an account by clicking on 'Register', entering your name, email-address and a password.
Or get the 30s demo sheet without an account
Or log in to your account if you already have one.
You are now on your starting page, select "My Songbook"
You now see your previously transcribe piano pieces. Here are all your music sheets.
By clicking on a song in your Songbook, the sheet appears.
At the bottom of the screen, you can find a play bar. Press Play to listen to the audio to your sheet.
Get your first song, for example, by using YouTube:
Enter a name of a song of your choice on https://www.youtube.com/ Choose a piano cover of it, copy the link, and enter it on our website.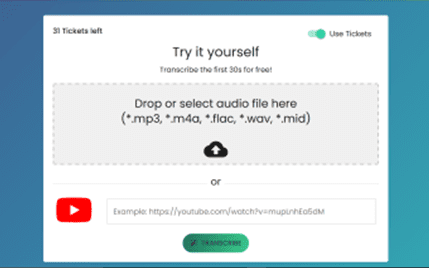 You will be asked to enter the title and artist and will be offered to change some settings. After a few minutes, your song is ready to get played! More details for changes under settings and MP3 to Sheet Music.
Enjoy your first song!