The days to debate what if artificial intelligence is going to impact the music industry have over. As artificial intelligence has been used in many ways already.
Therefore, now this is time to see how it is influencing the music industry as well as how we are going to create and consume music in the coming year. Similar to what it has done with other industries, it is advancing the music industry too. Artificial intelligence is helping people in automating services, discovering insights and patterns in plenty of data sets, and helping people to create more efficiently.
However, companies who are working in the music industry need to prepare and accept how artificial intelligence can transform if they don't want to be left behind. To understand how-to of music and artificial intelligence, there are much to know for people.
Knowing instrument note
Like most other new learning experiences, piano playing must begin from basics. Experts advise beginning with the keyboard notes. Piano students need to spare some time to memorize these notes while playing them on the instrument.
Once you know about the keys, you can start learning the piano octaves. As the name indicates, an octave is basically a group of 8 white keys. It is the most important step to become competent with your piano. When you become familiar with the octaves, then you can start playing bass notes. It is the simplest trick to add depth to your songs.
Playing chords
At the next level, you can start learning to play the chords. They are an important component of the modern music industry. Hence, music lovers need to learn them carefully. They may appear a little confusing as the sheet music, but slowly you may find them easier to learn.
In this era influenced by technologies, you may find several options to improve your skills in piano notes. There are several artificial intelligence-powered software tools that can help you improvise. You can start with many creative improve options; the best ones are octave switching, arpeggios and chord patterns. The online tutorials may help you get some clear instructions, and soon you will be able to improve the quality of notes.
How to learn piano as a beginner?
Now you have gone through the basics of piano playing. It is time to find some of the most trusted ways to learn piano as a beginner. Below we have listed a few trusted options that you can follow to make an informed decision:
Method 1: Traditional lessons
The first most option on the list is to get traditional lessons for piano. A few years back, it was the only option available with the music lovers. They need to visit the trainer at music school and learn things step by step with the regular lessons. But the sad fact is that many students had poor experiences with these classes. They said that traditional piano lessons are not that fruitful as they follow the old approach for teaching. However, some of the biggest benefits of these lessons are:
Developing a better understanding of music theory.
Sight teaching sessions.
Piano learning routines.
Building playing stamina and attention span.
Creating opportunities for public performance.
This method is more suitable for classical music enthusiasts, budding composers and aspiring professional pianists.
Method 2: Self-guided learning
Thanks to the extensive range of online content that can guide any beginner to learn playing the piano. If you initiate a search for piano tutorials online, you may find hundreds of articles and video tutorials from some piano experts around the world. You can follow those lessons to start self-guided learning.
Self-guided learning appears as a budget-friendly and flexible solution for beginners. But few downsides of this method include:
It doesn't offer a clearly outlined learning technique or lesson plan.
There is an extensive range of content; beginners may find it difficult to pick the best one.
No accountability to mentor or teacher.
In case if these downsides are not relevant to you, it is possible to start with a self-guided learning experience right now.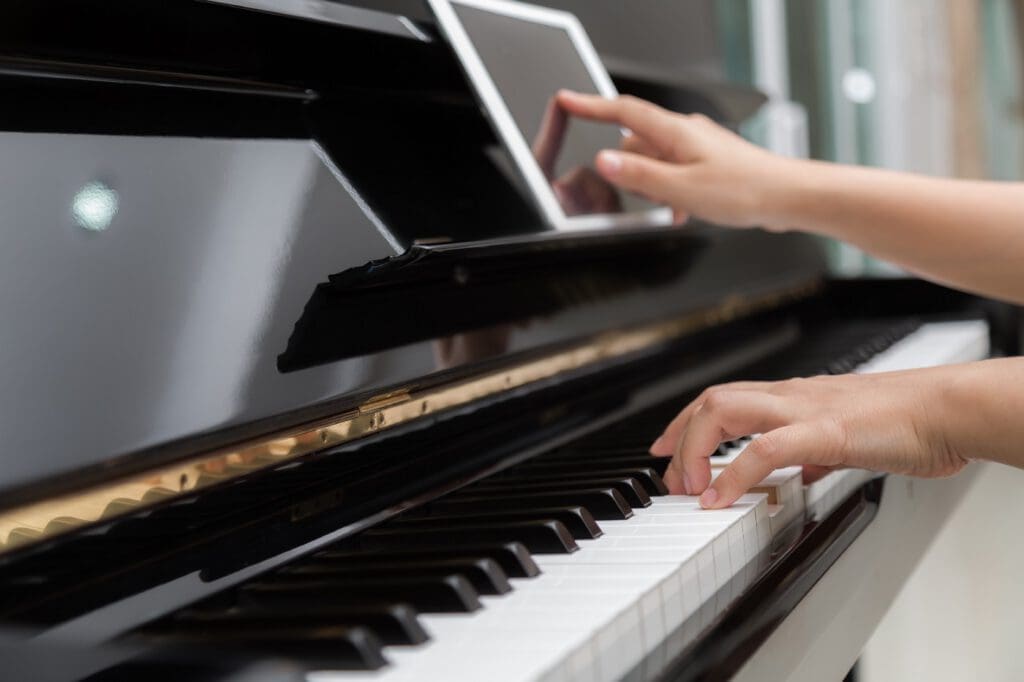 Method 3: Online learning
The third method is the most trusted solution for the current generation that wish to follow flexible and technology inspired methods. Although this method shares a few similarities with the self-guided method, it can offer you enhanced outcomes. The learning structure for the online learning method is usually more precise and useful. These courses are designed by some experts, and they appear more relevant to the beginners.
Some of the biggest advantages of this method are:
There is a specific teaching method and mentor for the entire program.
It follows clearly outlined targets and step by step learning experiences.
Specific course sequence that is designed to achieve specific results.
This option appears cheaper than long term traditional lessons.
The online learning option is accessible from any corner of the world.
It appears faster than traditional piano learning.
Offers online support for the students that need extra motivation.
With routine practise and dedicated learning behaviour, you can ensure great benefits from the online learning method. It is good to choose a reputed institution for your online course. Many of them can even provide certification that can offer you great opportunities in future.
One of the best options for beginners to learn piano online is piano2notes. This platform allows learners to transcript their piano pieces into sheet music instantly. It is possible to upload the recorded piano piece file in the MP3 version and get the transcript in Midi, MusicXML or PDF format immediately. This platform is simple to use with interactive features that can guide beginners to learn fast. You can get started with a small, regular or premium package depending upon your existing skill level. It can improve your learning experience by a considerable level.