Looking for the perfect little gift for a piano player? Your musician will appreciate a gift that's keyed into his or her passion. We searched hundreds of ideas and narrowed them down to 10 pianists will be crazy about.
If you are looking for a last minute gift, scroll right down to the bottom!
T-Shirt for Piano Nerds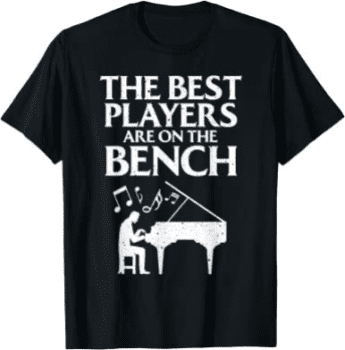 The Best Players Are On The Bench design is available for both adults and children. Show how you love playing the piano with this art. Choose to grab one now!
Price: $19.99
A Pianists Mug
Coffee is the key to any great day, so let the Fairly Odd Novelties Black White Piano mug jazz up your morning routine With its swirling notes and swanky Piano handle, This novelty mug is sure to make your favorite Coffee, tea, or cocoa Sing. This musical mug holds 8oz of your favorite drink, and is sure to let everyone know what a Maestro of mornings you are.
Price: $12.99
Nano Blocks Grand Piano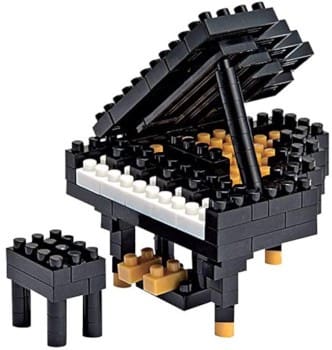 For the accomplished pianist, a beautiful grand piano with a hinged top, individual seat and pedals, appropriate for any symphony orchestra (170 pieces, Level 2)
Price: $15.99
Kalimba (Thumb Piano)
Just go out and have a picnic with friends in your spare time on the weekend! Don't forget to bring your beloved kalimba, and let your friend carry his guitar, all sit down and play music together and enjoy a good and relaxed time!
Price: $28.99
Musical Journal Notebook
Well-constructed hardcover journal features a durable sewn binding that lies flat for ease of writing and composing. Rounded corners help reduce wear. A matching elastic closure helps protect the pages. Little details like complementary musical pattern endpapers and raised endbands complete the design.
Price: $7.29
Metal Music Book Page Holder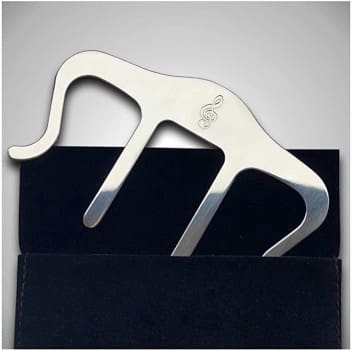 Are you frustrated because you can't find a convenient and practical way to perform activities and tasks while keeping a specific page of a book open to reference? Whether you play an instrument, use cookbooks during meal preparation, or need to follow a manual while working on projects around the house — Stelle & Hegen has you covered and your reading material, uncovered.
Price: $11.99
Give it a Rest Wine Glass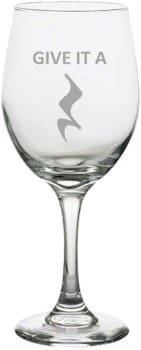 Sturdy stems and tapered bowls give these glasses an air of sophistication! Plus, their classy design makes them an ideal choice for restaurants, bars, banquet facilities, event planners, and caterers. Their all-purpose bowl shape is suited for serving many types of wine, cocktails, and spritzers while their simple, elegant design complements any dinnerware or event theme. Assortment Details: 20 oz. Brand-Name Perception White Wine Glasses Colors: Clear Material: Glass Volume: 20 oz.
Price: $18.95
Piano Tie
This well-made tie will elicit countless compliments. Wear it to musical events, concerts or your own performances — it's highly versatile and tons of fun.
Price: $12.99
Piano Patent Art Prints
Add a touch of sophistication to your home or music practice room with a set of for original piano patent art prints. Add frames to them to create an interesting conversational starter hanging at the wall of a music studio.
Price: $14.99
Piano2Notes printable Gift Card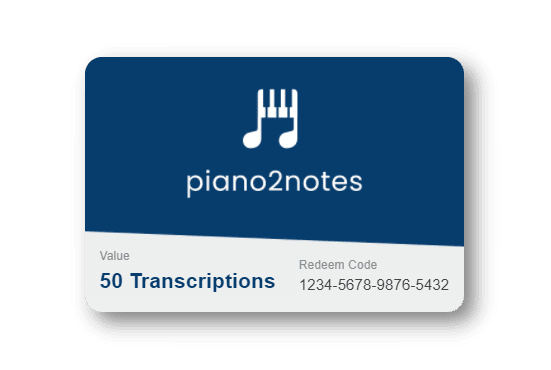 Your piano lover knows the struggle of finding the right sheet music or even writing down his own compositions. Piano2Notes is the perfect for solution! Upload your piano piece as MP3 file or import a YouTube piano cover and get a PDF, MIDI, and MusicXML transcription right away. With the Piano2Notes Gift Cards your piano friends can benefit by getting the transcription of a full-length audio.
Price: $6.99-$49.99