When a new technology comes into the market, society usually takes some time to adapt and use it fully. The concept of artificial intelligence came decades ago; however, the real implementation of these advanced algorithms started now. You can now find plenty of advancements in this area, and the applications of AI are increasing with each passing day.
Here we are going to talk about one of the most popular applications of AI, which is focused on the music industry. The technology has an extensive range of benefits; however, it is widely being used in three areas: music monetization, music streaming and music composition. The musicians and artists around the world are looking for some creative options to explore the huge potential of AI.
It started years ago in 1957 when Leonard Issacson and Learn Hiller programmed Illiac I that was the first most work in the music industry powered by AI. After almost 60 years, it turned out into a complete album produced by Amper Music. At present, the Taryn Southern album has more than 452 thousand followers on YouTube. Furthermore, Livesick song from this album is viewed and listened to more than 45000 times.
AI promising ultimate growth in the music industry:
The days of debating whether AI will impact the music industry or not are gone now. AI has already entered this sector, and it has influenced the musicians and listeners by a considerable level. Same as it performs in other industries, AI is now serving the music industry with great potential. It helps to discover new trends, patterns and enormous data sets, leading to new efficiencies. The growing companies in the music industry are now preparing to adopt AI so that they can transform their business as per new age requirements.
Businesses are completely reshaped by this new technology, and the music industry is no exception to this revolution. As per the recent report published by McKinsey, almost 70% of companies will be adopting AI by the end of 2030. AI promises that it will augment and complement human capabilities by a considerable level. With time, the musicians and other professionals involved in the music industry may become more efficient, and they can drive growth with innovation.
Scott Cohen is the first most famous leader in this field who recognized the potential of AI when no one else did. His thoughts about the distribution of music in the digital music world finally turned out to be The Orchard, which was later acquired by Sony for $200 million in the year 2015. During a presentation at Eurosonic Nooderslag Conference, he once said that there is something that kills music every ten years, and if you want to be aware of it, it is important to follow the tech world.
He also explained how AI had provided more recognition to the music and musicians. As per the reports presented by him, almost 20,000 new tracks are uploaded on the Spotify platform on a daily basis. He believes that AI plays an important role in delivering recommendations to potential listeners, depending upon what they preferred to listen in the past. Cohen also believes that the powerful combination of big data and AI can be the biggest reason behind the lost era of music genres as it will give rise to the AI-generated playlists. Moreover, this new model leads to trusted recommendations that can make music apps a more reliable choice for end-users. Furthermore, blockchain can help to eliminate many other shortcomings in the music industry by creating a realistic experience for the listeners. The ultimate combination of virtual and augmented realities can help people enjoy the concert-like experience even while sitting at home.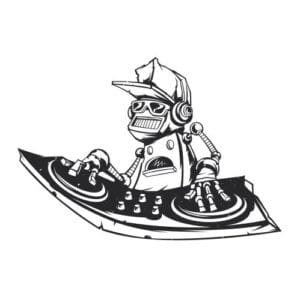 AI creates music:
Years ago, in 1951, Alan Turing, a British computer scientist, recorded the first computer-generated music with the help of a machine. Today as well, that recording is preserved by the researchers in New Zealand. AI-based music compositions are a trend these days. The best thing to know about this technology is that it starts with in-depth data analysis from different music compositions and creates multiple pieces of music.
With reinforcement learning, the AI algorithms are capable enough to learn patterns and characteristics of music and mimic a joyful genre. AI also has the potential to compose creative musical numbers by simply combining different musical elements. Considering the huge potential of AI, tech companies are now investing in AI to create music. One of the best examples of this is Google's Magenta project, which is basically an open-source platform. It can be used to produce songs that are written as well as performed by AI. Furthermore, Sony developed an advanced Flow Machine that works on the principles of AI and has released a popular song, Daddy's Car, into the music industry.
In order to utilize the full potential of AI, musicians and composers need to acquire new tech skills. Furthermore, the listening experience can also be optimized by using the latest tools and techniques. The AI-based mastering services help musicians to find more affordable and innovative solutions for creating mind-boggling of songs in lesser time.
Another creative solution for the new age musicians is Melody Scanner, which works with the potential of AI algorithms. It can record your instrument in the easiest way and can help you to entertain a huge audience online. You can upload music in the form of MP3 files and access it from any device, anywhere, at any time. The software can automatically generate scores for your music compositions. You can avail of all the insights in the form of PDF files that can be evaluated with ease to enjoy the enhanced performance in future.
You will be happy to hear that MelodyScanner supports a variety of instruments, including piano notes, guitar, violin, flute, and many more. The smart and advanced features of this online platform can ease your journey as a musician. It is the most reliable and affordable solution for modern age musicians.